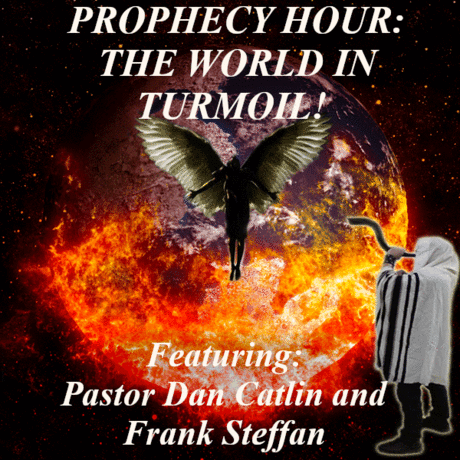 PROPHECY HOUR: THE WORLD IN TURMOIL!
Pastor Dan Catlin and Frank Steffan
FOLKS I say that the world is in great turmoil at the first of every radio program…I do realize that many really do not know the meaning so here is the definntion….
Definition of turmoil : a state or condition of extreme confusion, agitation, or commotion
2 Timothy 3:1-5
This know also, that in the last days perilous times shall come.
2For men shall be lovers of their own selves, covetous, boasters, proud, blasphemers, disobedient to parents, unthankful, unholy,
3Without natural affection, trucebreakers, false accusers, incontinent, fierce, despisers of those that are good,
4Traitors, heady, highminded, lovers of pleasures more than lovers of God;
5Having a form of godliness, but denying the power thereof: from such turn away.
Please visit
www.prophecyhour.com

Also
https://www.facebook.com/WichitaMissionChurch/
and
"Remember we do not 100% agree with everything our guests, say, do, or believe. It's up to you to pray and sort it out!"