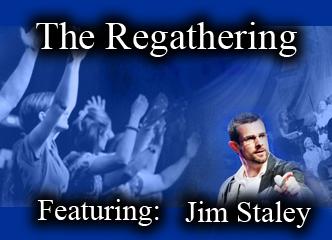 THE REGATHERING
JIM STALEY
http://www.passionfortruth.com/index.aspx?parentnavigationid=18843
THE REGATHERING.COM
Jim Staley is the director of Passion for Truth Ministries also the Pastor/Teacher of Passion for Truth Fellowship in St. Charles, Missouri, as well as the director for 'The Final Return Conference' that travels nationally to different cities throughout the country each year. He is one of America's newest and freshest Hebraic teachers and brings an articulate, entertaining, Spirit-led, and down-to-earth style to his teachings.
He has one of the strongest grasps on first century Judaism and early Christianity around today and has been asked to speak at congregations, radio shows, and television programs all over the world.
He is the proud parent of six beautiful daughters, wow!
Tonight he toldus about a robust social networking site for the Hebrew roots movement that they are putting up in the next 30 days,
http://theregathering.com/
He will also spoke with us about an Israel conference tour that will take place next year…a tour like no one has ever been on!
Another do not Miss End-Time Radio program as
"We are Warning the World as it HAPPENS!"
Please visit
www.prophecyhour.com
also visit
www.wichitahomeless.com