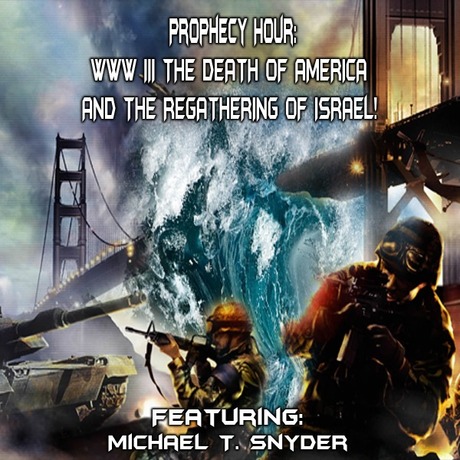 WWW III THE DEATH OF AMERICA AND THE
REGATHERING OF ISRAEL!
Michael T. Snyder
http://theeconomiccollapseblog.com/
Michael Snyder has a blog called
"The Economic Collapse"
He is also the author of the book "The Beginnings of the END…
Recently he just made to DVD's one is called
"The ReGathering of the Ten Lost Tribes"
and
"Economic Collapse, WW III and the Death of America!"
Shortly ago he wrote
"I believe that the greatest move of God and the greatest harvest of souls that the world has ever seen are coming. But this coming move of God is going to look very different from the way that we "play church" today.
The era of the "Christian superstar" is ending, and God is going to restore things to the way that they worked during the early church.
In this next move of God, we aren't going to put "Christian superstars" up on a pedestal and rely on them to do all the ministering.
Instead, it is the people that are going to be doing the ministering and the one that is going to get put up on a pedestal is Jesus Christ"
We talked about this and MORE!
"Remember we do not 100% agree with everything our guests,
say, do, or believe. It is up to you to pray and sort it out!"
Another do not Miss End-Time Radio program as
"We are Warning the World as it HAPPENS!"
Please visit
www.prophecyhour.com
Also please visit
www.wichitahomeless.com